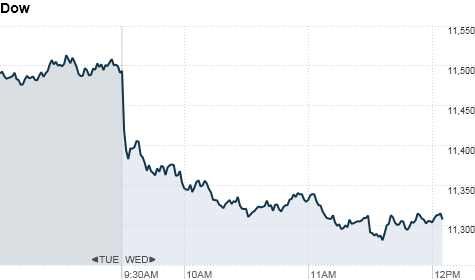 NEW YORK (CNNMoney) --
U.S. stocks slid deep in the red Wednesday, as eurozone fears rumbled on and a preliminary report showed that Chinese manufacturing slowed sharply.
An lackluster report on ...
August 24, 2011
By JILIAN MINCER NEW YORK TIMES August 24, 2010
With well-known companies such as Skype SA and General Motors Co. planning to go public, investor interest in IPOs is picking up. Brand recognition, however, isn't making their advisers any more comfortable with the initial public offerings. Many worry that individuals will ...
August 1, 2011
By Hibah Yousuf August 1, 2011: 4:27 PM ETNEW YORK (CNNMoney) Stocks took a wild ride Monday. The day started with an early rally fueled by hopes of a debt deal, but a weak manufacturing report quickly deflated that optimism -- leaving stocks little changed as investors await a House vote. The ...
July 13, 2011
By Dan Weil
The dollar has taken a wild roller coaster ride over the past three years, wreaking havoc on a portion of many
investors' portfolios
. If you're wondering what to do about that, you aren't alone. "Everyone is talking about this. Clients are getting concerned," says Tyler Vernon, chief ...